Shakespeare > vita e opere
Shakespeare > vita e opere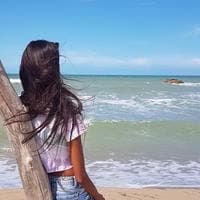 Arianna Pantalone
31 Follower
Shakespeare: Romeo e Giulietta, Amleto, Mercante di Venezia
William Shakespeare Born in Stratford-upon-Avon in April 1564, possibly 23th (St. George's day the patron of England) Ly said to be also death Was eldest son day Attended local grammar school where he acquired a good knowledge of the English language and classical authors When only 18 married Anne Hataway (26 years old) and had 3 children: Susanna and twins Judith and Hamnet In 1584 went to London (caught deer_hunting) ->here 1° experienced the playhouse He received into one of the acting companies were he distinguished. himself as an excelent playwright When theaters were closed because of the plague he got the support of a private patron, a young nobleman, the Earl of Southampton, to whom he dadicated his poems When theatres re-opened became major playwright of the most succesfull company of London: "The Lord Chamberlainds men In 1599 his company built the globe theatre -> most of his plays performed Beetween 1590_1596 wrote historycal dramas Beetween 1595_1605 wrote great tragedies Died in 1616, at 52 years and buried in local church. 7 years after some his friends published 36 of his plays in one volume ("First Folio") general seatures wolving scenes Progress of play->linked to gradual clarification of things which are teft ↓ mysterious at the beginning. Themes are hinted but become dear later Contrast beetween scenes. ->whit many or few characters. in public or in private • full of...
Con noi per un apprendimento più divertente
Impara dai migliori studenti con oltre 650.000 Contenuti!
Studia al meglio con gli altri studenti aiutandovi a vicenda!
Ottieni voti migliori senza sforzi!
Didascalia alternativa:
action or devoted to reflection. Sometimes leaves some questions open so that we continue to think about the answer after the play is over structure Structure was flexible ->disagreed 3 Aristotelian unities of time, place and action Didn't gave much importance to the division of the acts As a rule a scene is over when all the characters have left the stage Used some conventions like soliloquies, asides, introductory passages spoken by chours, funeral onorations and death-bed scenes stage directions Were mostly added by editors, especially in the 18th century, The text itself provides information about the atmosphere, feeling and the way an actor enters an leaves the stage. Are often given indirectly, hidden in a question or a metaphor He asked the active cooperation of the spectator in making the play alive. characters Hierarchy was background of every play Almost alway a man of royal or aristocratic blood From the aristocracy the list discends to nurses, rustics and servants Importance of family ties: these relationships often in contrasting form, suggesting conflict beetween older and younger generations Symmetrical corrispondences: 3 ladies and 3 lords... Variety of style Different levels of speech and actions to portroy his characters from different angles, close up and at a distance "Some allegorical scenes, songs, music and dances and magical transformation стадечу lenguage characterised by a wide variety of rethorical figures: similes, metaphores... Some have characteristic image molifs. these image_clusters are connected to the main themes of the plays and define their tones Uses obscure and archaic words, mythological illusions and invented new words themes Main themes: o family relations. • love • power o money friendships • death o reality and appearence. Romeo and Juliet plot In Verona starts the violence beetween the Montague and Capulet First act 1 day opens in Verona street →Romeo reveals to his cousin is in Love with Rosalie but not returned ->He goes at the Capulets' ball where she is gonna be and there he met Juliet and it's love at first sight During party discover their families are professed enemies Romeo overhears Juliet express her love for him. →he answers and they declaire their love and desire to be married Second act -> secretly marry in the chaplet by priest Friar Laurence Third act longest act divided into 2 parts: public events full of actions (2) private events Mercutio, Romeo's friend, is killed by Tybald, Juliet's cousin. and in revenge Romeo Killes him and is banished to Mantua Ends with Romeo and Juliet wedding night Fourth actJuliet to avoid the marriage with Count Paris takes a drug given by Friar Laurance characters ->The potion makes her appear to be dead → Friar sent a message to Romeo but before it arrives he hears about Juliet and comes back to Verona Figth act He arrives at Juliet's tomb and takes some potions, dying Kisses her ->when she wakes up, seeing Romeo dead, she stuks herself with a dagger settings Verona italians considered violent and passionate most out-doors Romeo Montague: • presented as men belonging to the courtly love conventions. • uses image of light compares her to the brilliant lights of the torches that illuminate the hall -> ->Juliet is the light that frees him from his dark melanchaly and links her to sunlight at the end commits suicide rather than live without Juliet 11 Juliet Capulet: a beautiful, ribellious, kind and loving o at beginning appears as an obedient child but her first meeting with Romeo causes her to move towards maturity o compares her love to light suggests their love is like lighting, a break in the blackness of the night Kills herself because of her strong love themes so powerfull that becomes more important than family, loyalties and life Power of love Passion and violence : passion leads to violence. The families hate is as strong as the lovers love Individual against society: what the lovers want against what society wants Power of fate: at beginnin chours says their love will tragically end. During they have bad feeling about what is gonna happend. Tragic end results from a pattern of incomplete knowlage Merchant of venice plót Has a main plot and a subplot 2 dispute on money matters between the Venetian Antonio and the Jewish money-lender Shylock choice of an husband by the rich lady Portia who lives in Beltmont First act Uenice, Antonio tells his friends, invested all his money in foreign trade > friend Bassanio going to Belmont to woo Portia B. needs money for his courtship so ask Shylock who lends him 3000 ducats for 3 months her father has arranged for her suitors to choose among 3 casckets, 1 of gold, 1 silver, I lead and the one who found daugther's picture will marry her but if B. fails to repay him, A. must give S.'a pound of his flesh' Second act in Venice Shylock's daughther Jessica gives the servant a letter for secret lover, Lorenzo 2 of Portia's suitors choose wrong casket. Third actS. is furiouse 'cause J. fled the house with his ducats and Jewels >B. Sinds the portrait of P. and agree to marry leaden chest A. ships are shipwrecked so can't repay S. and put in prison Fourth act trial at Duke of Venice Disguised as lawyer P. offers S. money to drop charge against A., but refuses, so she twists situation saing S.was a non-citizen who has threatened the life of citezen A. subject to the death penalty →Duke spare S. life but half his possession to Venicians and half to state Fight actJand L. in front of P.mansion comment some themes end with musical accomaniment A. ask duke allow S. Keep half money if convert to christianity and give half to Jessica and Lorenzo 2 views expressed by: • Shylock = greedy side • Antonio z wealth Venice settings TH Venice 16th century was an autonomous trading town. symbol of wealth and greed. Belmont where rich, happy and sophisticated society lives →> there young people play tricks, wit and humor are part their life → women seem to have more power characters Shylock Jewish moneylender • complex and ephasised his humanity (hatred of Christians arose from the abuse he suffered in a Christian society) and lack of mercy for A. prevents us from considering him positive • has a doughther and wife is dead • lives in a society that deprise him Portia weathy heiress from Belmont 。 her beauty is matched only by her intelligence • bound by father to the casket test to get an husband Antonio merchant who signs Shylock's contract to help friend Bassanio risks wealth and reputation for him. Bassanio • gentleman, friend of Antonio wants marry Portia and wins casket test Graziano • friend of Bassanio and Shylock most insulting critic in trial galls for P.maid and marry her (Nerissa) Jessica • Shylock daugther, elopes with Lorenzo Lorenzo friend of B. and A., he loves Jessica themes love of a friend (Antonio, Bassanio) children for parents (Portia and father) J romantic (Lorenzo, Jessica) for money and possession (Shylock) Jeus vs Christians Prejudice Mercy, Justice and revenge Apparence and reality ->disquised Value and worth. Simbolical meaning of number 3. J. dresses up as a boy to elope with L. <> P. disguised as a lawyer 3 cuples 3 sheets R₂ 3000 ducats Hamlet plot First act: King of Danemark has been dead for 2 month, but Queen Gertrude has married her brother-in-law, Claudius he asks Hamlet to avange him and leave his mother's punishment to heaven Second act: Hamlet pretends to be mad and Polonius, the King's counsellor, thinks his madness is caused by Hamlet's love for his daughter, Ophelia → Hamlet arranges for a troupe of actors to perform "The Murder of Gonzago" a ptay whose story is similar to the one revaled by the ghost :-> during the play king Claudius rises and rushes away Hamlet Third act: ->a ghost, resembling the late King, has appeared at the castle, armed for a possible attack from Fortinbras, Prince of Norway • Hamlet and his friend, Horatio, arrange a night meeting to see the ghost →> the ghost tells Hamlet he was murdered by Claudius, who poured poison in his ear while he was sleeping Fourth act: Fifth act: goes to his mother to tell her the truth but they argue and Hamlet accidentally Kills Polonius, who's hiding behind a curtain to overhear the conversation the King decides to send Hamlet to England to get rid of him (be killed) Ophelia goes mad (PAZZA) and drowns herself →> her brother Laertes wants revenge and Claudius, after he knew that Hamlet has escaped, plots his death in a duel with Laertes the duel happends -> →> to make sure that Hamlet dies he poures poison into the drink of the winning cup but also on the tip of Laertes sward → Hamlet refuses to drink the wine, which his mother than wins instead and Kills her ->Laertes wounds Hamlet with the poisoned tip, but the sword are exchanged during battle and Hamlet wounds Laertes ->Laertes falls and denounces the king who's stabbed by Hamlet. -> the King and Laertes die and Hamlet asks Horatio to tell his story and to elect Fortinbras King settings Late middle ages in and around the royal castle in Elsinore, Denmark Denmark is a protestant country. choice can also be because the subplot deals with a possible war with Norway characters Hamlet-most talktive of all Shakespeare's characters. The psychoanalyst Jacques Lacan says Hamlet's lenguage is characterised by anbiguity; everything he says is conveyed through metaphors, simile and wordplay. His words have a hidden. meaning, enourms affinities with the language of the unconcious. The shock Hamlets recives on the death of his father and re-marrige of mother is the cause of his melancholy themes Is a revenge tragedy. themes central to humanity: m relationship father and son mother and son Hamlet and friends love relationships. madness Im action and inaction corruption linked to power * life after death in meaning of theatre itself Play of life and death and human's relation with them Hamlet's theme of action and non-action (monologue" be or not to be") Apparence and reality Honour->every action to correct a wrong should be reasoned, not emotional structure In 3d act there's a play-within-the-play which is the only true thing (wanted by It.) turns the actors into an audience; there's a real audience and one on the stage